Binance ranks first in crypto spot volumes in September
Binance traded $828 billion (up 10.2%) in September, followed by OKEx trading $181bn (up 2.8%), and Huobi Global trading $168bn (up 1.3%).
The price of Bitcoin and Ethereum fell to $43,829 (down 7.1%) and $3,001 (down 12.6%) in September, but this hasn't kept cryptocurrency exchanges from seeing an increase in trading volume.
CryptoCompare found that spot volumes rose 6.2% to $2.5 trillion for top-tier exchanges, with Binance remaining the top player in terms of spot volume. It has been that way for 15 months straight.
Binance, which finds itself in a middle of a regulatory pickle across the world, keeps leading spot exchange volume, trading $828 billion (up 10.2%) in September.
Binance (Grade BB) was followed by OKEx (Grade BB) trading $181bn (up 2.8%), and Huobi Global (Grade BB) trading $168bn (up 1.3%). Top-Tier exchanges now represent 91.2% of total spot volume.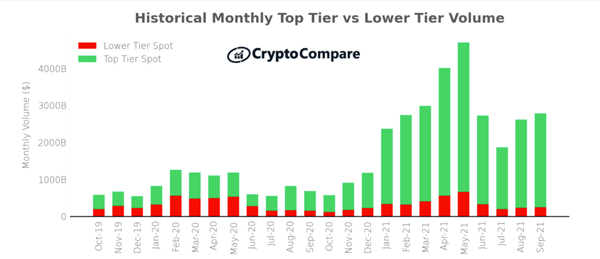 September also saw CME's institutional exchange experiencing growing volumes and open-interest as BTC options volume rose 36% month on month. A maximum of 177 contracts were traded on September 24th, the highest single-day volume recorded since April 23rd (185).
As to Ethereum, the second cryptocurrency by market cap continues to outpace Bitcoin across derivatives open interest. CME recorded an all-time high for Ethereum open-interest, growing 10.5% to 678mn.
Aggregate open interest in Ethereum-based derivatives grew 4.7% to $5.8bn in September, while open interest in Bitcoin-based derivatives fell 3.7% month-on-month to $11.9bn.
Binance is the world's largest cryptocurrency exchange, which draws attention from regulators who want to make an example out of the firm so the rest of the crypto trading space falls in line.
That has prompted Binance to take action, namely by reinforcing its compliance teams and follow the many regulatory frameworks more strictly.
The exchange is trying to upgrade its regulatory profile in Europe, having registered three more firms in Ireland within the past 12 days.
Binance's Singapore entity has already submitted a license application to the country's regulator. As such, Binance.sg is currently exempt from holding a license until the review of its license application is completed.
The American outpost of the world's biggest crypto exchange is eyeing a potential IPO route to go public within three years.
The United Kingdom, however, remains a tough nut to crack. The Financial Conduct Authority has recently reiterated its ban on Binance.
While the influential platform was technically allowed to continue offering trading to UK users, it was one of several crypto exchanges that were ordered to withdraw applications to register with the FCA due to not meeting anti-money laundering requirements.